Success in Paris for Hunter trained baker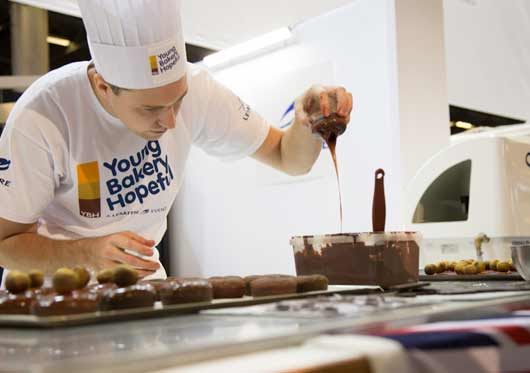 John Reminis has achieved more than most at 23 years-old, having placed second in the 2016 Baking World Cup (Coupe du Monde) in France in February.
Mr Reminis was awarded the Food Critics' Choice Prize place in the 2016 World Young Bakery Hopeful competition, a segment of The Bakery World Cup in Paris. He competed against five international bakers representing Europe, the Americas and the African & Mediterranean regions and came second to Rianne Kuintjes of The Netherlands.
The World Baking Cup is Mr Reminis' third time representing Australia internationally. Competing at this elite level has taken nine months of intense preparation and training with his coach and mentor for the Paris completion, Dean Tilden.
Coach and Hunter TAFE head teacher baking, Dean Tilden said Mr Reminis' success in the intense four-hour competition bake came through "training very hard and a dedication to his trade".
"For John to receive the Food Critics Choice Prize is a massive achievement and honour, especially considering the credentials of both judges. The quality of the product of all five bakers was to a very high standard," said Mr Tilden.
"To be involved with this young man throughout this journey is truly an honour and gives me hope for the next generation in this industry. As a young Australian, John is a credit to his family, his trade and to Australia."
Mr Reminis travelled to Paris to represent the Asia-Pacific Region as a part of the Australian Baking Team formed by Dean Tilden, Dean Gibson, Ben Hasselt and Brett Noy.
The Australian Baking Team is an initiative of the not-for-profit Southern Cross Baking Group.
Other Articles from this issue
Are you often contacted by prospective customers whose first question is how much your product or service costs? Do they...
Stressed. Tired. I need a drink. These are common responses to the global workplace greeting "how are you today"?
With over one million small businesses in Australia, how many of them do you think believe investing in their business i...
Part of principal contractor Hansen Yuncken's strategy in targeting NeW Space was to promise the University that they wo...