Rising Star Award Sponsored by Whiteley Corporation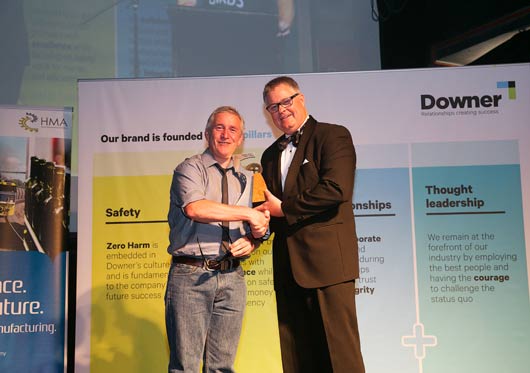 Pierre Sidorow from Varley receiving the award on behalf of Nicholas Percy
Nicholas Percy
from
Varley Group
won the 2015 Rising Star Award.
Nicholas is a certified practising engineer who works for leading Hunter manufacturer, Varley.
He has clearly demonstrated, even at this early stage of his career, that he has all the attributes required to play a leading role in the manufacturing sector in our region for many years to come.
Nicholas has been at the forefront of a range of significant projects and innovations that have impacted on both the productivity of the business and the health and safety of the workforce.
Despite a heavy workload, as a design engineer, Nicholas is well on his way to completing his MBA and has also been invited to participate in the assessment of other engineers through the professional certification program.
Nicholas' passion, drive and commitment to excellence are inspirational and he is a worthy winner of this award for 2015.
A highly commended was awarded to Alex Vandervoort from WRI Australia.
Other Articles from this issue
In 1990 China and India contributed approximately 10% of global GDP. By 2010 this number had risen to 20%. By 2020 the ...
Newcastle Permanent's annual financial results highlight its sustained out performance of other retail banking organisat...
Established in 2004 by sister, brother/wife family combination Bev, Stephen and Ginny, Classic Blinds and Shutters now ...
Failing to plan is planning to fail. It's an old adage that we've all likely heard, but nonetheless remains hugely relev...