PRODUCTION BOOST FOR STEBER INTERNATIONAL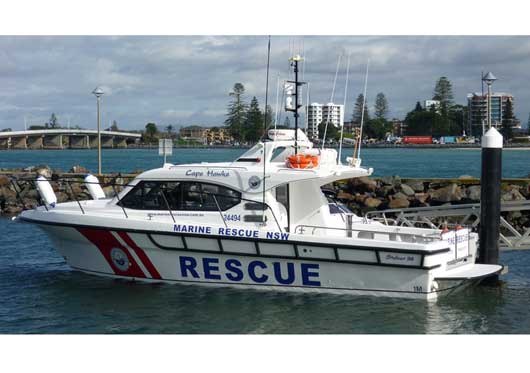 Its full steam ahead for Steber International with contracts just signed for three new vessels and several other projects in the pipeline. The fibreglass boat manufacturer, based in Taree, has added five new staff to its workforce and commenced a training program to keep pace with the new boat builds and multiple refits.
Construction is about to start on two NSW Marine Rescue vessels based on the Steber 38 design which will include the addition of a flybridge to enhance search and rescue operations.
After a six-eight month build period the vessels will be based at Port Stephens and Port Macquarie. Steber have a solid relationship with the NSW Marine Rescue Authority and have already built vessels stationed at Bermagui, Batemans Bay, Jervis Bay, Botany Bay, Shoalhaven, Pittwater, Sydney, Forster, Port Macquarie and Yamba.
Steber has also teamed up with Van Diemen Luxury Craft (VDLC) out of Tasmania, to construct an 11m tender for an Australian client. Due for delivery in 2016, the vessel will feature seating for 12 guests and two crew, in air-conditioned cabin comfort when in limousine mode.
Steber General Manager, Alan Steber said the proven hull design was a key factor in gaining the contract as the client was looking for the added safety and security of a vessel to survey standards. Van Diemen's patented roof and window system allows the tender to transform from a limousine to an open boat in under 30 seconds. Client ride and comfort will be to the fore with gyroscopic stabilisation and active ride control keeping cabin noise and vibration to a minimum. A rear folding transom will also provide ease of boarding.
Meantime, Alan and Colin Steber have just returned from a successful Pacific 2015 defence industry expo staged in Sydney. Highlight of the Steber display was the latest model in the unmanned surface vessel (USV) series, which received plenty of attention from defence and industry leaders alike.
Steber is set to benefit from the recent awarding of a $3m Australian Government defence contract to Ocius Technology Limited for development of the USV project.
The Taree firm is providing tooling for all fibreglass components, as well as creating new models for tank testing to assist further design and performance refinements.
Ocius CEO, Dr Robert Dane said: "Specifically it will allow us to develop a high performance Ocius Bluebottle unmanned surface vessel coupled with an integrated Thales Australia thinline towed array sonar system".
"Initially we will be building a longer version of our 2.8m oceanographic 'Nemo' USV, known as a 'Stinger', with a length of 5.8m.
"Our ultimate aim is to demonstrate a low cost, long range, persistent detection capability that enhances the ability of navy surface forces to detect and track modern submarines and torpedoes at realistic standoff distances".
Other Articles from this issue
The Technology Award was awarded to J&S Engineering and Maintenance.
In today's business environment, very few companies can afford internet downtime.
Anglican Care has announced the transfer of services from Lake Mac Care Services (LMCS) to Anglican Care, broadening the...
Lake Macquarie City Council has welcomed State Government legislation aimed at fast-tracking redevelopment of the former...