Newcastle Bulk Terminal launched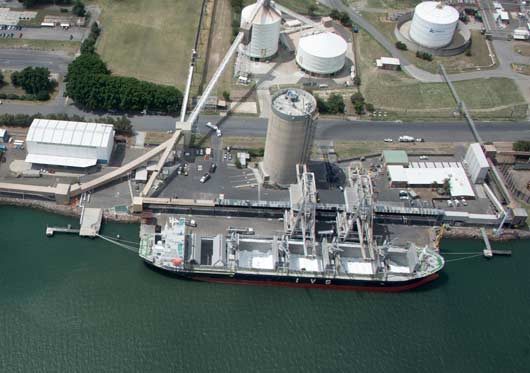 The Port of Newcastle has demonstrated its commitment to diversified trades by formally launching the Newcastle Bulk Terminal development at Walsh Point, Kooragang Island.
The launch showcases a $33 million investment by the Port of Newcastle in bulk cargo handling equipment, associated infrastructure and additional strategic initiatives.
The investment and initiatives include:
• The creation of the Newcastle Bulk Terminal through combining Kooragang 2 and Kooragang 3 berths under one banner;
• Demolition of existing crane unloader infrastructure;
• Construction of a new crane unloader and associated infrastructure;
• Provision of temporary mobile hopper unloading infrastructure;
• Direct provision of environmental services at the Terminal by Port of Newcastle; and
• Implementation of direct management of the Terminal by Port of Newcastle, ensuring the core port principle of common user access is maintained.
Kooragang 2 and 3 berths are the busiest common user berths in the Port, handling fertiliser, meals, alumina, magnetite, cement and a range of bulk liquid commodities. The two existing ship unloaders, which are now over 50 years old, will be dismantled and replaced by a new high capacity ship unloader, conveyor structures, wharf upgrades and electrical system. Mobile hoppers will provide continuity for customers at the Terminal while the new equipment is constructed.
Port of Newcastle's Executive Manager Operations and Infrastructure, Keith Wilks, said the project represented a significant investment by the Port of Newcastle into the next generation in bulk handling infrastructure.
"The Newcastle Bulk Terminal will deliver best practice in safety and environmental management, while driving efficiency and maximising trade growth.
"We have listened to our customers, who have requested more capacity to grow their cargo volumes, and to the NSW Environment Protection Authority, which wants to see best practice in cargo handling. The new equipment will deliver on both fronts, providing state-of-the-art environmental capabilities, and delivering faster unloading to enable customers to access the berth quicker, reducing vessel turnaround times and moving more cargo across the berth.
"The launch of the Newcastle Bulk Terminal is only Stage 1. Stage 2 of the Walsh Point Master Plan will include minimising cargo double handling, reducing cargo transfer points and removing trucks from the berths through the use conveyor systems," said Keith.
The Port has engaged Kerman Contracting Pty Ltd to carry out most of the development including the crane replacement, with electrical work to be performed by Downer EDI. The project is due for completion at the end of 2019.
Other Articles from this issue
The Hunter Medical Research Institute (HMRI) has long specialised in stroke research, and a new philanthropic donation w...
A new partnership between digital marketers Vicinity Marketing and website specialists Redback Solutions will form the l...
The Williamtown Aerospace Centre (WAC) is a national, award winning, regional partnership established to create, enhance...