New offices for Jirsch Sutherland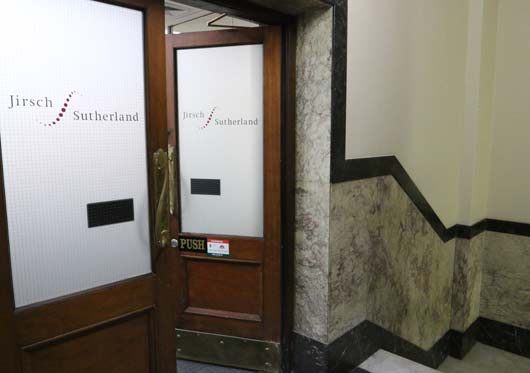 Insolvency, reconstruction and turnaround specialist Jirsch Sutherland has moved, but has remained in the Newcastle CBD.
After having spent seven years in the former ABC radio building in Newcommen Street, the team of 13 administrators and insolvency specialists has moved into one of the historic Watt Street buildings.
Jirsch Sutherland Partner, Lloyd Kerr, said that the growth of the firm over the past three years had enabled the firm's expansion.
"This new space provides room for future growth and enables us to better meet the needs of our clients from the convenience of Newcastle's CBD," Mr Kerr said.
Speaking about the move while watching three significant property developments clearly visible from the first floor windows of Jirsch Sutherland's new offices, Mr Lloyd said that the company was pleased to be part of a city that was moving ahead.
"It is a good thing to be located in a city that is creating exciting new spaces for business and living," Mr Lloyd said.
Jirsch Sutherland is a national forensic accounting and insolvency firm that was establish in Sydney in 1984. Mr Kerr established the first expansion in Newcastle in 1993. The organisation is also based in Gosford, Brisbane, Victoria and Western Australia and has a team of more than 130 specialists.
In Newcastle its three Newcastle partners, Stewart Free, Bradd Morelli and Lloyd Kerr lead a team that are engaged in up to 200 turnaround, insolvency and forensic accounting services projects annually.
Jirsch Sutherland is now located at Level 1, 14 Watt Street, Newcastle.
Other Articles from this issue
OEM Banlaw have made their name from their high performance dry-break refuelling and hydraulics products.
Portable Safety Cam (PSC) was established in 2010 in Newcastle NSW. The product was developed after being approached by...
Anglican Care has announced the transfer of services from Lake Mac Care Services (LMCS) to Anglican Care, broadening the...
Giving birth has been the foundation of the human race since the start of humanity, but the primal practice is set to be...