New industry alliance focused on biotechnology future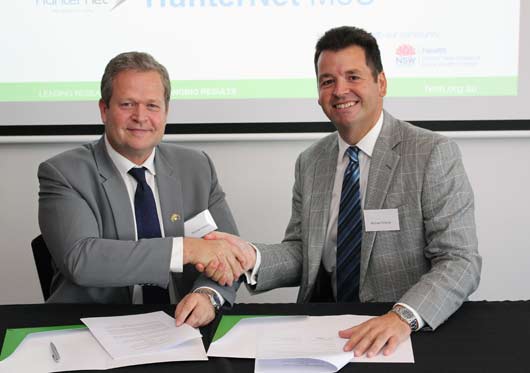 With the signing of a Memorandum of Understanding, the Hunter Medical Research Institute (HMRI) and industry co-operative HunterNet have formed a united front to encourage the growth of medical manufacturing and health investment potential within the region.
HMRI Director Professor Michael Nilsson and HunterNet Vice Chairman Michael Sharpe sealed the inaugural agreement in an official function at the HMRI Building.
It coincided with a formal visit by the Ambassador of Sweden Pär Ahlberger and a Swedish health delegation, as Hunter researchers work closely with Swedish biotech companies, medical research institutes and government representatives to extend the reach of HMRI's research programs globally.
"Through our alliance with HunterNet, researchers will be able to create more of these type of international arrangements," Professor Nilsson said.
"This initiative is really about the future as it marks a new level of cooperation between our institute and local industries.
"HMRI has increasingly become pro-business in its thinking because there are great opportunities for knowledge sharing. With a world-class environment for smart people to work in, we can create both a healthier and wealthier future for this community."
The MoU aims to spur new collaborations through research investment, advanced manufacturing technologies and the exchange of technical information, with HMRI and HunterNet sharing a strategic vision to establish a biotech cluster for pharmaceuticals, medical devices and healthcare delivery in the Hunter New England Health region.
Mr Sharpe said that formalising linkages and fostering new synergies between researchers and advanced manufacturers was a logical next step in the evolution of the Hunter's industry base.
"We are extremely excited to sign a collaboration agreement with our friends at HMRI. Over the past few years we have witnessed an accelerated transition of businesses moving into advanced manufacturing processes and technologies, particularly in the medical sector," Mr Sharpe said.
"We know the region possesses the capabilities – now it's time we match these capabilities with the needs of Hunter researchers to support their delivery of 'world's best' medical solutions."
Other Articles from this issue
In today's business environment, very few companies can afford internet downtime.
Anglican Care has announced the transfer of services from Lake Mac Care Services (LMCS) to Anglican Care, broadening the...
Two of Newcastle's most popular and unique sites are ready to be transformed with expressions of interest now being soug...