BUSINESS ANNIVERSARIES
As a new apprentice wall and floor tiler in 1967, Stephen Rapaport tiled many new bathrooms etc and learnt how to waterproof shower recesses, bathrooms and also major construction multi-level buildings to waterproof the concrete roof tops & balconies.
During his tiling years when there was a problem with a leaking shower recess the only known method to repair would be to remove the floor tiling back to the substrate and remove one course of the bottom row of wall tiles in the shower recess. Then a waterproof flexible membrane was applied to those areas and then retiled. At that time that cost could be around $1,000.
Stephen pondered on how he could fix the leaking shower without taking the tiles off and sealing the shower long term. The Hitec Sealant was the answer as this product permanently seals the cement or grout between the floor tiles stopping moisture from soaking down to the substrate and allowing water to escape.
In 1990 after 4 years of testing Stephen invented a way to repair those leaking shower recesses and since then has specialised in the repair of leaking shower recesses without the need to remove sound tiles.
Established in his garage by Stephen Rapaport Chemical Developments Pty Ltd is celebrating its 20th year of manufacturing the Megatreat Range of decorative liquid stone coatings and water based sealers.
From humble beginnings the natural sandstone, limestone and terracotta "paints" have the ability to be mistaken for the real thing.
8000 litres of Megatreat Liquid Stone was applied to the "Nemo Ride" at Disneyland's Amusement Park in Anaheim California over 8 years ago. The Megatreat Product is still in excellent condition and was preferred over a Dupont product. Megatreat has independent product applicators in NSW, Qld, Vic, S.A. & Tasmania and has been manufacturing at its Taylors Beach facility since its inception. Chemical Developments Pty Ltd is currently up for sale.
Other Articles from this issue
This award was won by Deltawater Solutions who has provided a personalised and customised service through its Water Ad...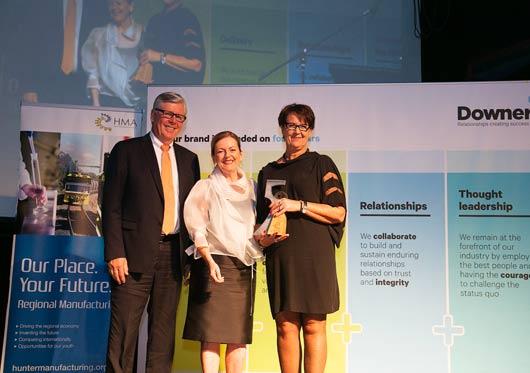 ILS, the leading manufacturing transformation provider in the US, is coming to the Hunter for the first time early next ...
With the signing of a Memorandum of Understanding, the Hunter Medical Research Institute (HMRI) and industry co-operati...
On 17 January Michael Johnsen MP, Member for Upper Hunter noted that works are officially underway in Muswellbrook for t...