Budding designers launch latest collection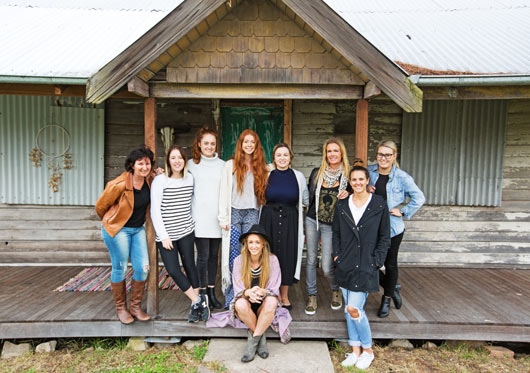 Notched students with teachers and model
A group of local fashion design students have launched the second collection of fashion venture, Notched.
The Summer 2015/16 Notched collection entitled 'blame it on my gypsy soul' is the latest collection of coastal inspired Kimonos from the 2015 Diploma of Applied Fashion Design and Technology students at Hunter TAFE.
A study tour to Bali as part of the course offers students the opportunity to travel overseas and create a collective brand from the concept and design, to the production and marketing of the label.
As part of the course the process of creating a fashion collection, via 'Notched', aims to build practical skills and confidence in the end-to-end process of fashion design. Key to this is the ability to engage and work with suppliers internationally to produce quality, affordable ready-to-wear garments.
Hunter TAFE teacher and founder of Guanabana Design, Linda Bergskas said the students will now venture onto creating their own individual brands as the next generation of budding local designers and launch their own careers in the fashion industry.
Other Articles from this issue
OEM Banlaw have made their name from their high performance dry-break refuelling and hydraulics products.
APP Corporation (APP) has been appointed as Project Manager for the $60M Armidale Hospital redevelopment project.
Portable Safety Cam (PSC) was established in 2010 in Newcastle NSW. The product was developed after being approached by...
Are you still storing those pre 1 July 2011 Self-Managed Superannuation Fund collectables and personal use assets in you...