$36m mixed use development at Honeysuckle
Plans have been released for a $36 million development to be built next to the NIB building on Honeysuckle Drive.
Designed by local architects DWP Suters, Hunter Development Corporation (HDC) has contracted the ACT based Doma Group to build two new sevenstorey buildings comprised of:
• 7,500 sqm of commercial office space (68%);
• 66 residential units (32%);
• Ground floor retail and café.
The new development is expected to generate a peak construction workforce of up to 200 workers, A-grade office workspace for up to 750 workers, and homes for around 100 residents. Once the heavy rail line is truncated it will become a gateway site for the linkage of Worth Place with the city.
Parliamentary Secretary for Regional Planning Craig Baumann, was at the unveiling, and said that this development indicates "Newcastle is seeing the benefit of the Government's urban renewal program in the form of renewed investor confidence in the city centre."
Other Articles from this issue
The Newcastle Light Rail route has been decided with an announcement made at the end of May.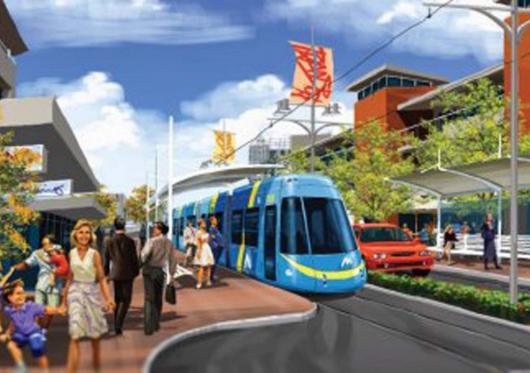 Local consultancy APP Corporation is managing the construction of the $89.7 million new Newcastle Courthouse
The Hunter economy is now feeling the effects of the post-boom slowdown
I had a conversation with a business owner recently about social media and how they used it in their business.