University of Newcastle NeW Space Precinct set to bring new life to Newcastle CBD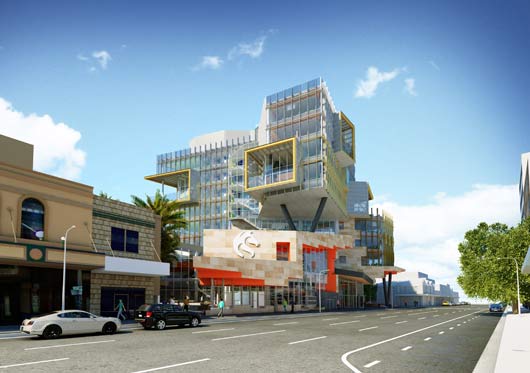 Whilst there are an increasing number of important projects underway and planned for the Newcastle CBD, the University of Newcastle's new education precinct, NeW Space, will be arguably the most important in breathing new life into the Newcastle CBD. Once complete, the $95 landmark precinct will operate on a 24/7 basis and is expected to attract around 3,500 students a day during semester with over 100 teaching and other staff. Located on the corner of Hunter and Auckland Streets, the striking NeW Space building is 14,000 sqm over nine floors with 2316 sqm of teaching space, 2390 sqm of learning space and 4370 sqm of office space.
Facilities will include:
• Business and Law programs
• Digital library services and information commons
• Collaborative learning and research spaces
• Work integrated learning
• Services for industry, professional and community engagement, and
• Social spaces.
• Collaborative learning and research spaces
• Work integrated learning
• Services for industry, professional and community engagement, and
• Social spaces.
The Green Building Council of Australia recently announced that the NeW Space project has been awarded a 5 Star Green Star – Education Design v1 Certified Rating, which represents 'Australian Excellence' in environmentally sustainable design. It is the first building in the Hunter to be awarded a 5 Star Green Star design rating from the Green Council of Australia.
Providing a "next generation" learning experience, the new city campus will be attractive to both domestic and international students as well as an excellent option for students who work and study part time. The facility will support online and blended learning as well as technology enabled delivery models of teaching. Collaborative spaces are also incorporated to enhance the overall student experience. NeW Space will also provide increased opportunities to be associated with research in the city.
As well as the major advantages for students, NeW Space will also deliver significant benefits for the community, including:
• During construction, employment on site will peak at over 200 people and there will be major flow-on for local manufacturing, supply, transport and support services.
• Increasing numbers of domestic and international students attracted to the city and surrounding suburbs
• Increased student numbers in the CBD lead to flow-on spending in the local economy
• More people on the streets out of normal business hours will make the city more vibrant
• Encouraging further investment in the CBD
• Attracting associated businesses such as cafes and restaurants, travel agents, bookshops, banks and other financial institutions that can also service the broader community.
APP Corporation
was appointed as the project manager for NeW Space in 2013 after a competitive tendering process was conducted. APP has a strong track record of successfully managing projects of this size and is currently also managing the adjacent Newcastle Court House.
A team of architects, consisting of leading Melbourne firm Lyons Architecture and prominent local firm EJE Architects were appointed and produced the unique design seen in the images.
Hansen Yuncken (HY)
was awarded the Principal Contractor in April 2015 after a lengthy and in-depth tender process that included EOI, RFP, RFT and collaborative workshop processes. The company has successfully completed many previous contracts for the University and also some of the Hunter's most awarded buildings, including the Bradken Facility on Steel River, the GP Superclinic in Raymond Terrace and the Birubi Point Surf Life Saving Club and Community Centre.
NeW Space features a post-tensioned concrete structure for the main body of the building with a hybrid structural steel cantilever (Nobby's Lookout') extending from the fifth floor to the roof. It is HY's intention to engage as many Hunter trades and services suppliers and subcontractors as possible to provide maximum benefits to the local economy. Construction of NeW Space commenced in June with site preparation and piling and is expected to be complete in time for the commencement of the 2017 academic year.
Preparing the site and piling
Other Articles from this issue
One of the major risks we come across with business owners is a lack of diversification of their wealth.
A special Commencement Ceremony was held on the NeW Space site on 29 May.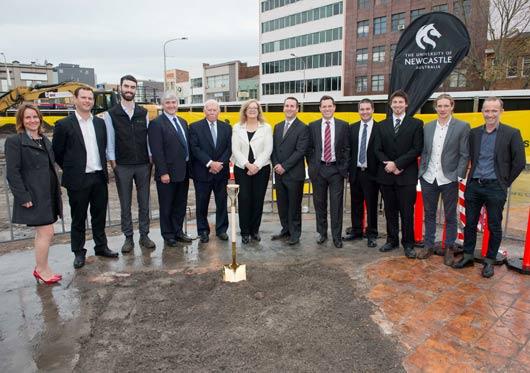 After 27 days on the road, Gerald Frogley has returned home from his 14,670km ride around Australia.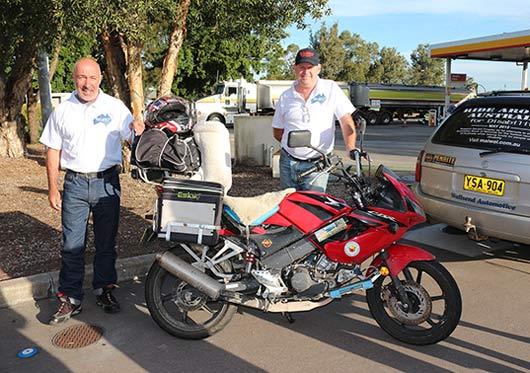 Engineers Australia Newcastle Division hosted the Sally Chapman Memorial Dinner on Friday 8 September at which the 201...