The Mutual Bank's head office is ready for business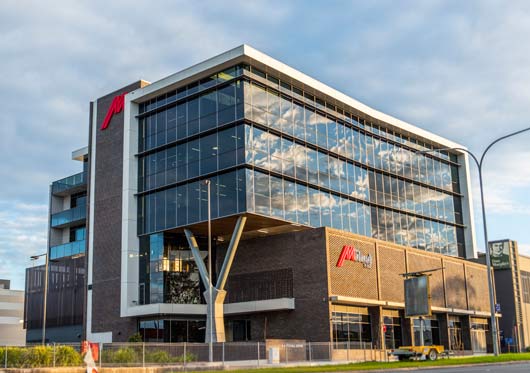 Already described as a 'new landmark of the lower Hunter', The Mutual Bank's new head office at 6 Mitchell Drive, East Maitland is officially complete and ready for business.
Designed and project managed by dwp | Newcastle, with construction by North Construction & Building, the new building will provide a state-of-the-art commercial office space to support the continued growth and evolution of The Mutual Bank, and to reinforce its position as a founding pillar of the financial landscape in the Hunter Region.
Chris McBriarty from dwp | Newcastle, said the new building was designed to encourage natural light, scenic views and social interaction.
"Staff amenity is central to the design of The Mutual Bank's new head office, with features such as an open staff kitchen and lunch area opening to covered external terraces, a family room for staff needing short term working arrangements with children on-site, flexible training and meeting areas, as well as ample on-site parking."
"The building was also designed to meet or exceed the current sustainability requirements for energy and water usage. Features include energy-efficient facades with integrated sun screening, naturally ventilated car parking levels, on-site collection and detention for stormwater and energy-efficient LED lighting throughout the building, just to name a few," said Mr McBriarty.
Significant features of the building, such as the external Y-column, provide a dramatic component to the design creating a unique and memorable image.
"It goes without saying that a project as exceptional as this does not come around all that often," said Richard Telfer, North Construction & Building.
"What The Mutual Bank's new head office has done is combine some of the most complex structural and architectural features that North would usually experience on several individual projects, and combined them into the one unique building. The North team has relished the challenge to showcase our construction skills in tackling all of the highly technical requirements the architect and engineer have inspired into the design of this truly extraordinary project."
The Mutual Bank's move to its new 'home' has been a long time in the making. After more than 30 years in its previous head office in High St Maitland, and a 10-year process to find the perfect new location, the completion of the new building is a major milestone in the organisation's history, and a significant step toward its future.
CEO of The Mutual Bank, Geoff Seccombe said the teams at dwp | Newcastle and North Construction & Building had truly delivered an iconic new building.
"We are absolutely thrilled with our fantastic new facility, a space that will be the heart of The Mutual Bank's operations. We couldn't be happier to have partnered with highly reputable local organisations to bring to life the vision we have held for our new 'home' for over 10 years."
The Mutual Bank team members have begun the transition into the premises at 6 Mitchell Drive, in a staged process pending ongoing health advice from state and federal authorities.
Other Articles from this issue
Like so many charity events in 2020, Charlie's Run 4 Kids was forced to cancel its major fundraiser, a 5-day run held ev...
A new type of thermal storage material, housed in blocks like LEGO, could see coal-fired power stations converted to ru...
Lake Macquarie City Council's approval of an $8 million asphalt plant in Teralba has paved the way for soft plastics an...