ON THE MOVE
DIAMOND GROUP
Steve James has joined the Diamond Group Business Development team. With a natural flair for interacting with people, Steve is experienced in both retail and direct business channels for business communications and brings a wealth of Telstra experience to the Diamond Team, specialising in both fixed and mobility.
JAIMIE ABBOTT COMMUNICATIONS
Former CEO of Hunter Tourism Sheridan Ferrier has been appointed Marketing Manager with Jaimie Abbott Communications and will be responsible for the development of PR and marketing strategies for the company. Sheridan holds a Master of Business Administration, Master of Management, and recently won the Award for Excellence in Branding & Marketing at the Lake Macquarie Business Excellence Awards.
ADVANCED COMMS. AUSTRALIA
David Day has joined Advanced Communications Australia as Sales Manager. David has over 16 years telecommunications experience, previously working for Telstra, NEC, Optus, Commander just to name a few. David's passionate about helping local businesses by providing tailored communication solutions that will improve their businesses efficiency.
RENEW NEWCASTLE
Christopher Saunders is General Manager at Renew Newcastle. For the last 2 years he has been working as Property Manager and delivering Project Support Services. Christopher brings over 20 years of experience in community arts projects, recently as Creative Producer with Big hART. He project managed the rebuild and restoration of The Regal Cinema at Birmingham Gardens.
OPTEON
Jerrard Fairhurst has been appointed Commercial Valuations Manager at Opteon in Newcastle. He has over 20 years' experience in both public listed and locally operated advisory firms. He has been responsible for undertaking all levels of commercial property valuations as well as major project feasibilities for financial institutions, global corporate clients and all levels of Government.
GREATER BUILDING SOCIETY
Greater Building Society has appointed Scott Morgan as the new CEO. He replaces Don Magin who stepped down after more than six years in the role. Mr Morgan was previously The Greater's Chief Risk Officer and a member of The Greater executive team. He has worked for The Greater for more than seven years and previously worked for more than six years as a senior manager at PwC Australia.
NEXUS LAW GROUP
Nexus has engaged new Consulting Principal, John Turner, adding to the firm's capability in the government practice space. John provides a unique perspective, particularly around property and planning law.
Before joining Nexus, John spent 23 years as a member of the NSW Legislative Assembly and before that he was a founding partner of a Hunter-based legal practice.
Other Articles from this issue
CommBank's Daily IQ is a new mobile analytics app which gives businesses access to insights about their cash flow, sales...
The Salvation Army's mobile outreach project Ourspace, engages the most disaffected and disconnected young people in the...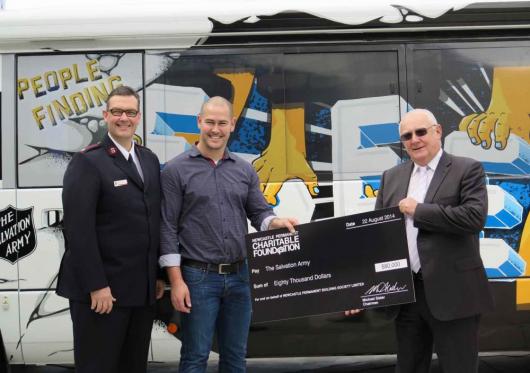 The University of Newcastle (UON) is Australia's number one university in the 2014 QS Top 50 Under 50 rankings.
The Australian manufacturing sector expanded for a sixth straight month in December, continuing the longest run of expan...