Office design trends for 2017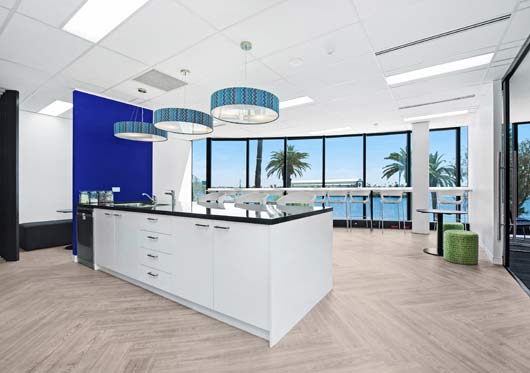 Evoke Projects intergrated living fitout at Wharf Road
Jerry Kennard
Evoke Projects
As 2017 gets under way, I present you with the latest office design trends for your office fit-out or refurbishment plans.
It's all about you
The most important aspect of your office design is that it reflects your brand and culture. Trends are worth considering during an office refurbishment, but ultimately you want a workplace that creates the best environment for productivity.
Branding
Successful companies prove consistently that workplace branding is a great employee motivator, and it helps to retain the best staff. This isn't a new trend, but one that is becoming more important. Employees who are engaged with your brand message will be motivated to represent your company's objectives. As an example, Lego offices have fun hotspots, and brick sculptures are used as partitions.
If you are planning an office refurbishment, put a real focus on your reception area, which is a key opportunity to greet visitors with a striking brand message. You can use aspects of your logo and corporate colour creatively throughout your office design.
Colour fiesta
Colours influence mood. Highly saturated, intense colours (e.g. bright red) will stimulate people, while softer, muted colours (e.g. pale orange) have a soothing effect. Blue promotes productivity and efficiency, while yellow is great for creativity. Different hues of
a colour can change its impact dramatically.
Whichever colour you choose during your new office fit-out or refurbishment, make sure it works well with your branding.
Modern finishes
Domain is reporting that terracotta tiles, cork (a great noise absorber) and metallic finishes are the materials to watch in 2017.
I recommend that on-trend finishes are used in moderation during an office fit-out to avoid being caught out by fads that date an office design too quickly. Instead, artwork and ornamental pieces are a fantastic way to introduce short-term modern elements.
Future proof your office design
Flexible office design has never been more important than it is now. Activity based working is here to stay. Choose office furniture that facilitates the tasks to be performed in each work zone. Not only does it improve productivity but it also reduces real estate space costs.
By adopting a flexible layout and buying modular office furniture, you can future proof your office well beyond 2017.
Keep people and devices charged!
It is impossible to write about office design trends these days without mentioning technology. WiFi and data networks make productivity so much easier. Wireless desktop chargers are a popular addition to offices.
Take the opportunity during an office fit-out to add integrated technology options. For example, meeting pods and panels can have built-in VGA, RCA, HDMI points, USB charging, 10 amp power and TV screens. Make it easy for your staff to stay productive, and you will reap the rewards!
Other Articles from this issue
What can you do this year to ensure 2017 is their best year in small business yet? Here are seven important strategies t...
We have already seen major political upheavals at the state, federal & global levels.