New research: Daughters step up in family business succession
New research from a local accounting and business services firm has highlighted a 'new era' of family business succession which includes greater complexity and uncertainty for baby boomer business owners and the dramatic change in the role of sons and daughters.
Pitcher Partners and Swinburne University launched the findings of their global research, 'Succession Reset: Family Business Succession in the 21st Century', a four year project canvassing 2,650 people across 56 countries and in nine languages.
Hunter-based Greg Farrow from Pitcher Partners said helping local family businesses was a key part of its work. Mr Farrow said that succession planning was something many family-owned businesses overlook. He said the research confirms this as a global problem as 84% of people surveyed had not completed succession plans.
"Succession planning in family businesses has broader importance for the economy because families make up 67% of businesses worldwide and generate 70 to 90% of annual global GDP," Mr Farrow said.
Mr Farrow said the research project Chief Investigator is Pitcher Partners Executive Director and recognised authority in business strategy Dr Richard Schrapnel PhD. Dr Schrapnel said the traditional definition of family business succession is no longer relevant. He said the focus was now on financial capacity to support a growing family, and the generational transfer of skills.
Key findings
Daughters step up as sons not considered natural heirs.
Daughters are stepping up to take up senior roles as 69% do not believe that the first-born son is the natural leader or that sons have to take over the business.
Baby boomers' inaction.
Baby boomers are leaving their run late to effectively hand overtheir businesses to younger generations or to get the best saleprice for their business with 81.1% of baby boomers in Australiahaving not completed succession plans.
Spouses provide harmony and keep business on track.
The role of the spouse as key advisers is critical in the new era of succession with 78.6% saying harmony is the most important consideration in the family business, followed by gaining clarity around ownership and inheritance for the incoming generation.
One of the most significant challenges for business is to make enough money to support all of the family. Spouses ensure family harmony and fairness, with fair distribution of assets among family members ranking the highest of the key business outcomes.
Continuity and jobs, not the selling price.
Australian businesses are more focused on selling their business than their overseas counterparts with 79.5% giving this a greater importance before they had completed their business succession process (56% for overseas), but this lowered significantly to 42% after they had completed the process with overseas businesses at 24.9%. "Succession planning needs to commence the day the business starts," Dr Schrapnel said. "Business succession is not about retirement or getting the best price for your business, it's about changing to meet the current environment, passing on a viable business, keeping people in jobs and, for families, harmony and a fair share of the assets," he said. Dr Schrapnel is undertaking speaking engagements on the report in the Hunter in late November.
For more information or assistance with succession planning phone (02) 4911 2000 or visit www.pitcher.com.au.
Eight principles of succession
1. Succession is not retirement
2. Start with readiness – preparation is a must
3. Set your goals before the journey
4. Harmony is a must
5. Price is not first
6. Plan early, start earlier
7. Equality is not equal
8. Ask before you get lost – advisers are important.
Contact HBR (02) 49257760 or email info@HBRmag.com.au for editorial and advertising opportunities
Other Articles from this issue
Hansen Yuncken has had another exciting few months with no less than seven regional, state and national awards for their...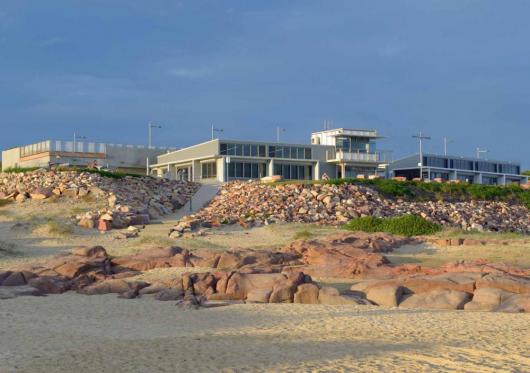 When Microsoft and Ipsos set out to gain some fresh insights into Australians use of personal technology, we figured we ...
In a tribute to the outstanding workmanship displayed within the construction industry the Master Builders Association h...
Austube Mills began its life in Newcastle in 1934, 80 years later it was awarded the Manufacturer of the Year award at t...