Local sustainable, hybrid modular- flat pack house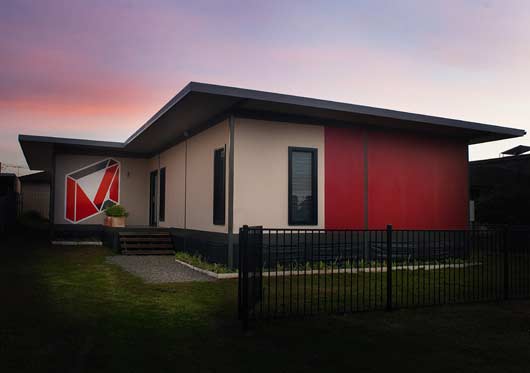 In an Australian and world first, Hunter/Mid North Coast builder Daniel Reitsma has launched MAAP House, a company committed to providing sustainable, environmentally friendly, architecturally designed, hybrid modular - flat pack houses that can be constructed on site in a matter of weeks.
The hybrid building system was developed as a response to the increasing Australian housing crisis, which has seen an undersupply of new land and housing packages. The MAAP House solution is the result of a collaboration between Daniel and architect, Edward Duc - who has been researching non-traditional methods of building for his PhD.
The Bulahdelah builder said that the MAAP House project was a unique innovation which has the potential to revolutionise the Australian building industry.
"These modern houses are competitively priced, meet all the requirements for BASIX and are built in a short period without the need for different trades to enter the site. The advantages of this modern building process is that there are reduced transport costs, greatly reduced waste and the ability to use localised and renewable materials," Daniel said.
Daniel, a builder of more than 20 years' experience who is also the owner of EF Building Solutions, spent the last two years sourcing, engaging, negotiating and collaborating with suppliers and trades who share his vision.
Construction for their first home in Woodberry took only eight weeks, employing a carpentry apprentice and four labourers from his local area of Bulahdelah to assist with the project. This three bedroom, two bathroom family home with double living areas serves as a prototype to display the unique design and high quality finish of a MAAP House build.
Other Articles from this issue
have always been in two minds when it comes to staff listening to music at work. And now I know why!!
The Planning Assessment Commission (PAC) has determined that the Terminal 4 coal loader project in Newcastle is approvab...