Let's talk With Shawn Sherlock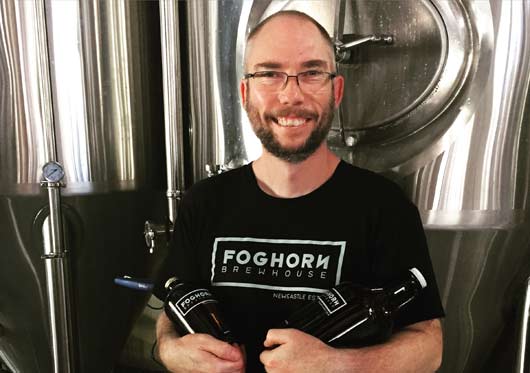 1. In a few words tell us about your current role.
I am the Co-Founder and Chief Brewing Officer at
FogHorn Brewhouse
. I brew the beer that fills our taps and an increasing number of taps in venues around Newcastle and the Hunter.
2. How have you reached this point in your professional life?
Basically I have followed a passion and managed to turn it into a career. I began brewing at home under the house with my father around 1989 and pursued it as a hobby off and on from then. I was completing a PhD in Australian History in the early 2000s and teaching at the University of Newcastle and seemingly had a career path in Academia mapped out. Increasingly my brewing obsession was taking over and after winning a few awards for my beers I eventually decided to follow the dream and took an Assistant Brewer's job in mid-2006. By 2008 I was Head Brewer at Murray's Craft Brewing Co. In 2014 I left there to start FogHorn Brewhouse with business partner James Garvey.
I have done a series of short training courses in brewing and have a qualification in beer judging but most of my learning has been years of practice at home and then 'on the job'. Running an independent Craft Brewery is such a multi-faceted role – it isn't really something that a single Tertiary type course can prepare you for. When I walked away from Academia in 2006 it was a massive gamble for my family and myself, but one I'm very happy I made.
3. When you're not at work, where can we find you?
Family is key – I have very limited time away from the brewery at the moment so when I do I try to spend as much of it as I can with family. I'm also a Knight's tragic and you will find me at the home games. I also enjoy music, reading, cooking….and thinking about the next brew.
4. Where do you find inspiration?
What really inspires and motivates me is creativity – I love starting with the same raw materials as everyone else and coming up with something unique and (hopefully) great. I'm always inspired by creative people, particularly people who enact lasting change in their chosen field.
5. What advice would you give to someone just starting out in your field?
The Craft Brewing sector is in a period of rapid growth at the moment and I meet a lot of people looking to start out in this field pretty much every week. My advice for what it is worth is that you need to ask yourself if you really LOVE what you do. Small brewing means long hours, lots and lots of cleaning, a lot of repetition of key tasks and compared to other industries the financial returns are modest. If you really love the process and get really buzzed by creating magic in the glass that is what will keep you going.
It is called a Craft for a reason. Respect the Craft. The other key is to stay true to your vision for your beers and for your business.
When you are brewing beers to 'meet the market' or copying the biggest seller in your area that is when you'll struggle. Make your own market. In my experience I've been most successful when I've taken a risk with flavour or done something a little out of the box. People buy our beers because they want to drink something different. If they want mainstream they'll buy mainstream – an imitation of the mainstream just doesn't work in our sector.
6. What's something most people don't know about you?
I'm a frustrated songwriter… If I could write songs and lyrics as brilliant as Billy Bragg, or Paul Kelly or Thom Yorke I could die happy… Unfortunately that is a talent I just don't have.
7. How would you like to see the Hunter evolve over the next decade?
In broad terms I love what is already happening in Newcastle and the Hunter. I love the new energy in the city, I love the new small businesses opening, I love what Renew Newcastle has brought, I love the mix of business, creativity and the arts that is making Newcastle and the Hunter one of the most exciting and vibrant places to be in the country right now. I love that I don't exactly know what Newcastle will look like in 20 years – change can be difficult but it is exciting and far better than stagnation. The obvious challenge is to manage this change and growth in such a way that we don't lose the soul of the place in the process. I'm as proud a Novocastrian as you'll meet and I'm a firm believer that there is something special about our community and our people that make our town different. Striking the balance between freeing business up while regulating growth and maintaining our region's soul is the big challenge for our local leaders and for all active and engaged members of the local community. Investment and change is coming regardless – I think we are on the tip of the iceberg – getting involved in directing this change to maintain the best of what we already have rather than just opposing out of fear of the new is the challenge for all of us.
8. What's your favourite Hunter restaurant/café/bar?
Barrio 2304 Mayfield.
9. Do you have a favourite sport or team?
The Mighty Newcastle Knights!
Other Articles from this issue
The 2017 NSW Minerals Council Health, Safety, Environment and Community Conference Award Winners were announced on 1...
The Hunter Innovation scene is on the verge of exponential growth - all the pieces needed for driving a growing, globall...
At the Property Council luncheon on 25 August, Andrew Constance, Minister for Transport and Infrastructure, announced an...
For some work is a job to pay the bills and fund a lifestyle, but for a select few work is life.