Lake Mac gets connected
Mitchell Whitaker, Kerryn and John Wollington
There are about 7,000 businesses operating in the city of Lake Macquarie - but that's a guess according to the city's peak business body.
Lake Macquarie Business Ltd (LMB) has launched a project that will effectively map the diversity and breadth of businesses and organisations located in the city.
LMB Director, Mitchell Whitaker, said that it was essential for the LMB to understand the current business landscape in order to effectively contribute to conversations and planning processes.
"Ultimately this is about connecting local businesses while ensuring that the city can support the needs of businesses, now and into the future," he said.
"The Lake Mac Connect project enables us to use teams of call centre people to capture data that can help us understand the types of businesses, the size of these organisations and the areas in which they operate," Mr Whitaker said.
"This data will be of great value to LMB, ensuring that our ability to influence the public and private sectors in terms of making decisions around planning and investment options as well as understanding the city's visitor economy profile, is founded on real data," he said.
One of the key advantages is that businesses and organisations in Lake Macquarie that participate in the project will be entitled to sponsored membership of LMB which also includes membership of NSW Business Chamber.
Lake Mac Connect is expected to take about six months that will include research and the involvement of a call centre team managed by Workskil Australia as part of the Work for the Dole Program.
In the meantime, businesses that want to take advantage of sponsored membership of Lake Macquarie Business, while ensuring that their business is included in the research can visit
www.lakemacbusiness.com.au
and nominate to participate.
The Lake Mac Connect project is also supported by its delivery partners; Lake Macquarie Business Growth Centre, Dantia and Vodafone Australia.
Other Articles from this issue
Global technology company Toshiba opened a showroom and direct branch at 426 King Street, Newcastle in August to serve H...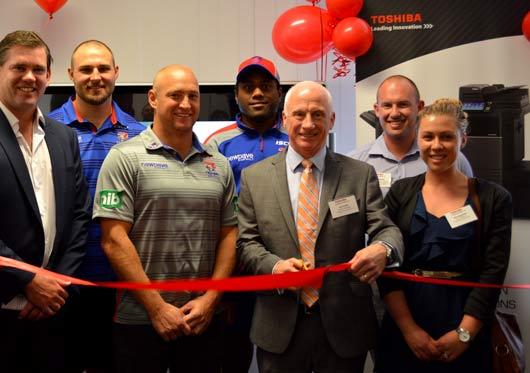 For the second consecutive year Jayco Newcastle has been named Best Regional Dealer at the NSW Caravan and Camping Indus...
Two local businessman, Shane Fox and Ian Jones, have joined forces to launch Merchant Business Brokers, a Newcastle-base...
Giving birth has been the foundation of the human race since the start of humanity, but the primal practice is set to be...