Ice machines from Toronto to across Australia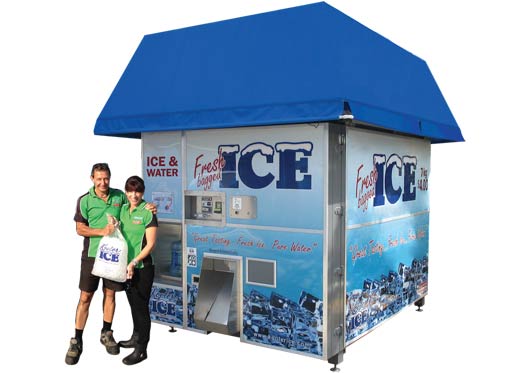 Based in Toronto, H2O Innovate is a leading ice and water specialist supplier representing some of the world's leading Ice and water brands.
Among these, they are the Australian representative for Kooler Ice, a manufacturer of advanced ice vending machines that dispense and automatically bag fresh ice on demand.
Under the name Kooler Ice Australia, they are supplying the machines from their Toronto base across Australia using a custom truck.
The machines are proving popular due to their 24 hour operation, low labour requirements (typically less than a day a month), low electricity costs, green footprint, ability to be relocated, plug and play electronics, heavy duty corrosionfree aluminium frames, 30 year lifespan, high visibility exterior graphics and optional water vending station.
This is backed by the IceTalk Remote Monitoring System that allows owners to manage their machines and monitor sales remotely.
It offers many remote benefits, including the ability to vend one bag or set the machine to free vend for any period of time, clear a bill jam, upgrade to new software and much more.
Owners can also access sales support, after sales support and maintenance support to maximise their investment.
Currently there are four sized models available to suit a wide range of applications and locations. They dispense 4-7 kg bags of ice and can produce 800 kg of ice per day.
Users from across Australia are reporting excellent return on investment with some 56% of owners having multiple machines.
Kooler Ice Australia Founder, Gary Cutcliff, has a very close relationship with the US-based manufacturer and is in regular contact regarding the machines and future enhancements. He is not just a passive representative but is deeply involved in the product and offered innovative ideas to take the machines to a new level.
The idea of the option water dispensing capability was in fact Gary's idea that initially met with some scepticism from the US. Through his persistence this optional capability was provided and proved to be very popular in both the US and Australia.
Other Articles from this issue
Residential builders and contractors are risking prosecution and fines by not staying up to date with requirements under...
As part of the on-going development work in the Hunter Valley, Central Coast and beyond, the aspect of road safety is an...
No matter how big or small your business, some level of debt is part of the deal to assist with cash flow.
Many Hunter workers are subjected to harsh remote work places and to find themselves in charge of heavy equipment operat...