Hummingbird officially opened at Williamtown Aerospace Centre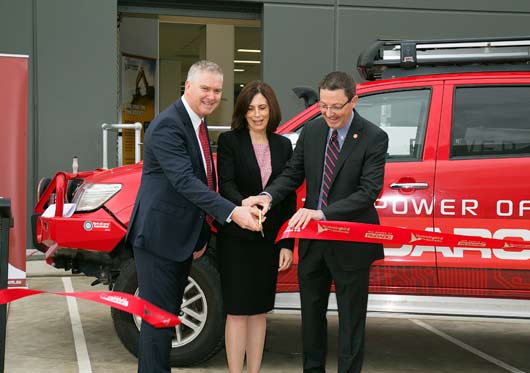 Anthony Kittel, Michelle Kittel & Scott MacDonald
Hummingbird Electronics had been at its previous premises in Port Stephens since its establishment in 2008. In 2015, Hummingbird was acquired by Adelaide-based advanced electronic manufacturer,
REDARC Electronics
.
The new facilities were officially opened on 21 August in the presence of a range of staff, business and community leaders, including Parliamentary Secretary for Planning, the Central Coast and the Hunter, Scott MacDonald and REDARC owner and CEO, Anthony Kittel.
Since being acquired by REDARC Electronics, Hummingbird Electronics has undergone many changes within their business to align their manufacturing and logistical facets with that of REDARC Electronics. Their impressive growth to date has been partially due to Hummingbird's ability to bring new and innovative bespoke products to the automotive, mining and transport industries both domestically and abroad.
REDARC are currently in the middle of a significant expansion of its Lonsdale facility in Adelaide. The expansion which is fuelled by $2.5 million Federal Government Next Generation Manufacturing Investment Program will see the creation of 100 jobs, enhance export capabilities, allow diversification into new markets such as medical and defence and provide flexibility leading into the future.
The catalyst for Hummingbird's relocation is its impressive growth and to shift with REDARC's significant expansion plan.
The move to Williamtown ensures Hummingbird continues to build its longstanding relationships in the region, enhance its capabilities in defence and to put itself in the best position to deal with opportunities for future growth.
Hummingbird's National Sales and Marketing Manager, Mark Bruce, said the move represented exciting times for the both REDARC and Hummingbird.
"Establishing our NSW base by relocation to the Williamtown Aerospace Centre is a key part of our strategy to grow the business into new markets as well as strengthen our alignment with REDARC.
"Being located adjacent to Australia's largest operating Air Force Base will allow Hummingbird to be situated alongside other likeminded electronics, aerospace and air industry companies attracting highly skilled personnel, new business development and engineering opportunities."
The Williamtown Aerospace Centre enables its organisations to more easily be part of Australia's national and international defence capability. It is currently home to several large defence focused organizations such as Raytheon, Bae Systems and Lockheed Martin. On completion, the WAC will comprise of four buildings with each occupancy custom designed to suit its tenant's requirements.
Other Articles from this issue
The 2017 NSW Minerals Council Health, Safety, Environment and Community Conference Award Winners were announced on 1...
At the Property Council luncheon on 25 August, Andrew Constance, Minister for Transport and Infrastructure, announced an...
StartupAUS released the Crossroads 2015 report in April, which reveals that, despite positive developments over the past...