Electric vehicle chargers installed portside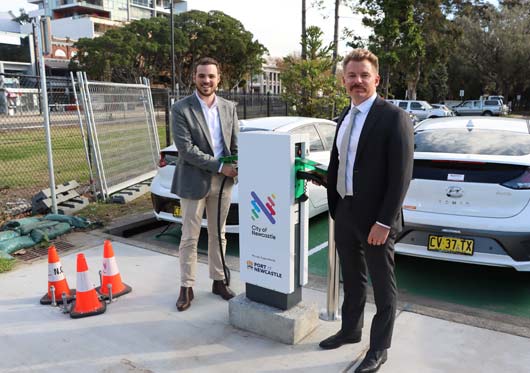 City of Newcastle has teamed up with Port of Newcastle to deliver a new electric vehicle charging station on Wharf Road to add to the city's growing network.
Two new 22-kilowatt chargers in the carpark next to Harry's Café de Wheels follow three others installed by the City outside No.2 Sportsground and another smaller charging station on Laman St, Cooks Hill, last year.
Thanks to City of Newcastle's 100 per cent renewable electricity contract, motorists can now power up using renewable energy from four parking bays either side of the two new chargers.   
Newcastle Lord Mayor Nuatali Nelmes said Novocastrians were increasingly embracing sustainable transport and that the new installation had been strategically located.
"This third charging hub is part of readying Newcastle for a future in which Australians dramatically reduce their transport emissions by driving renewable energy-powered EVs," Councillor Nelmes said.
"There are now 19 different EV models available in Australia with a typical range of 480km, and we're seeing more and more on local streets.
"We've located this facility close to inner-city businesses and tourist attractions in the hope that, like chargers installed in Wallsend's town centre, they draw motorists from the M1 Motorway.
"We are delighted to partner with the Port of Newcastle in leading this transition to more sustainable transport, which we outlined in our own 2017 Smart City Strategy."
The new chargers will initially be free before user-pay fees are later introduced. 
Port of Newcastle Chief Commercial Officer Simon Byrnes said partnerships were critical to achieving the Port's diversification and sustainability goals.
"It is a pleasure to partner with the City of Newcastle to help expand its electric vehicle charging network and promote renewable energy and sustainable transport options in the region," Mr Byrnes said.
"Today I am excited to unveil the first four electric vehicles in our Port of Newcastle fleet. We expect to complete the transition to an electric fleet by the end of 2021, saving more than 48 tonnes of carbon emissions annually.
"Port of Newcastle is serious about its commitment to the environment and creating a prosperous future for the communities it supports. Ultimately, we are striving to create a safe, sustainable and socially responsible Port for the future."
Australian sales of fully electric and plug-in hybrid cars more than tripled in 2019 to 6,718 units, according to the Electric Vehicle Council, as sales of petrol and diesel vehicles fell eight per cent.
NSW is now well covered with around 300 public charging stations, which the City will add to with another site in Cooks Hill's Queen Street carpark later in 2020.
Last year a 50-kilowatt fast charger and two 22-kilowatt chargers were installed at No.2 Sportsground.
The fast charger can charge an average vehicle to around 80 per cent capacity in 30-40 minutes, while the smaller chargers take around two hours.
"Our EV charger network has now recorded 1,000 charging sessions, 800 hours of charging time and 15,000-kilowatt hours of 100 per cent renewable energy," the Lord Mayor said.
The roll out of EV infrastructure is part of the $13 million Smart Moves Newcastle project, which received $5 million under the Federal Government's Smart Cities and Suburbs program in 2017.
The City has also begun transitioning its fleet with the purchase of electric vehicles and investigations into electric waste trucks.
Other Articles from this issue
The Hunter Region and Northern NSW are set to reap significant benefits after the NSW Government today announced William...
The Mutual Bank is proud to have been recognised again by Australia's largest financial comparison site, Canstar, by bei...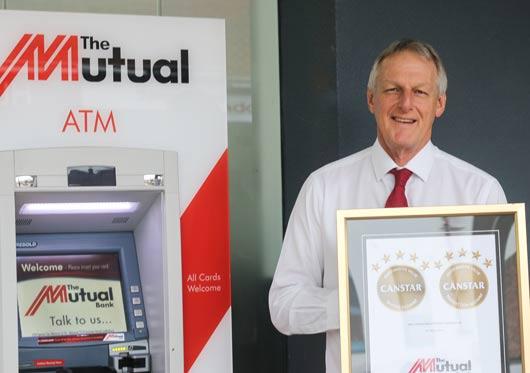 For the first time since 2013, a roll-on roll-off (ro-ro) vessel made call at Port of Newcastle with a commercial cargo.
Receive your copy of the leading Hunter region hard copy and online business and industry magazine.