Coffee the key to youth re-engagement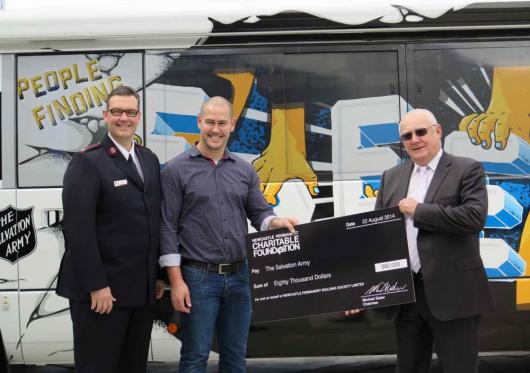 The Salvation Army's mobile outreach project Ourspace, engages the most disaffected and disconnected young people in the community. With $80,000 provided by Newcastle Permanent Charitable Foundation they have purchased a mobile coffee cart and the existing outreach bus has been decked out with new technology and recreational equipment.
The Salvation Army's Oasis Hunter Manager Peter Martin said the upgrade to the Ourspace bus and the addition of the coffee cart would allow The Salvation Army to provide accredited training courses in hospitality, IT and multimedia.
The main focus of the Ourspace program is early intervention for young people at risk of becoming isolated and disengaged from the community. "The Ourspace program will offer young people the opportunity to access crisis support, referrals, job seeking services and short-courses including first aid, hospitality, IT and multimedia courses," Mr Martin said.
The coffee cart will also be available for local community events and used as a source of income to sustain the ongoing delivery of the program.
Charitable Foundation Chairman Michael Slater said the program is a fantastic initiative. "We are proud to be able to support the program and assist local young people," he said, "part of the ethos of the Charitable Foundation is to provide funding for community projects that prosper youth development and mentoring, community health and wellbeing, social inclusiveness and training and education."
This project addressed all of these issues and empowered local young people to connect with other services and accredited and non-accredited training providers. Last year the outreach program supported over 3500 young people in the Hunter.
"The Salvation Army has worked hard to develop an outreach resource that provides a wide variety of training, education and engagement options," said Mr Martin, "Our staff and volunteers make the time to sit and listen with each person that visits the bus. Getting to know people is vital to us and we can now do it over a hot coffee." The Ourspace program will operate in Newcastle, Dungog, Karuah, Medowie, Tilligerry Peninsula, Swansea, Cessnock, Morisset, Rutherford and Raymond Terrace.
Other Articles from this issue
Joshua Lodge was named Trainee of the Year at the 2014 NSW State Training Awards held in September.
CommBank's Daily IQ is a new mobile analytics app which gives businesses access to insights about their cash flow, sales...
The transition of Reid Commercial Law to Sparke Helmore Lawyers took place in September in a move that gives the firm a...
The Government announced some good news for businesses in March with the introduction of legislation