$8 million investment in the Hunter's advanced manufacturing capabilities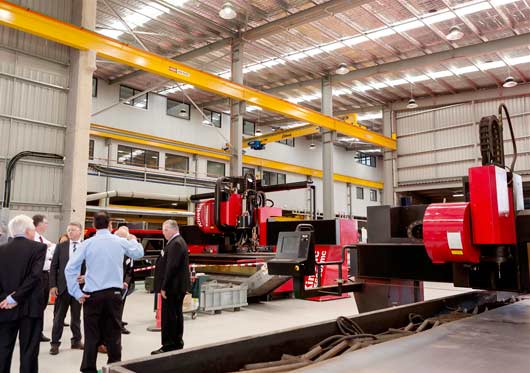 On 7 September ,
Hedweld
celebrated the grand opening of a new manufacturing facility that will help drive innovation and advanced manufacturing in the Hunter Region.
Located in Mt Thorley, the new facility represents an $8 million investment and will result in the creation of high-tech engineering jobs initially, in disciplines ranging from mechanical and electrical to systems and software engineering.
Hedweld marked the occasion with an event attended by The Honourable Craig Laundy MP – Assistant Minister for Industry, Innovation & Science, Joel Fitzgibbon Member for Hunter, Michael Johnsen Member for Upper Hunter and John Martin Mayor Singleton along with other officials, customers and staff.
"The opening showcased our world class Advanced Manufacturing facility and represents the absolute latest technology in machining and fabrication of complex metal parts. It is the latest facility to be built anywhere in NSW, and most likely, Australia. At a time when manufacturing is under some pressure, this has been a counter cyclic investment," said Hedweld's Chairman Alan Broome.
The new facility reflects Hedweld's belief that the intersection of technology and manufacturing – marrying hardware with software – will change the way the manufacturing industry will create, iterate and service products. Hedweld is already an internationally recognised manufacturer of Mining Technology (METS) products and exports the bulk of its output to the global market. The new facility will allow an expansion of this business which fits with the Federal Governments Growth Centre initiative, specifically around the METS and Advanced manufacturing sectors.
"This manufacturing facility will create important jobs for the Hunter Valley, tapping into our highly trained workforce and existing pool of high-tech savvy talent," said Managing Director Ian Hedley.
"With this commitment from Hedweld, we are advancing the Hunter region's capability to compete in the international marketplace and to make this region the epicentre of tomorrow's manufacturing."
Other Articles from this issue
With a back to the Seventies celebration highlighted by iconic rock band, Dragon, the Master Builders Association held i...
Mavid Constructions has been very active recently, being involved in the construction of a broad array of local developm...
Maitland Mutual Building Society (The Mutual) has announced exciting plans for the development of a new head office buil...
The City of Newcastle is moving forward with tenders for the redevelopment and use of the pavilions at Newcastle and Mer...