$19,000 entrepreneur grant for HiveUAV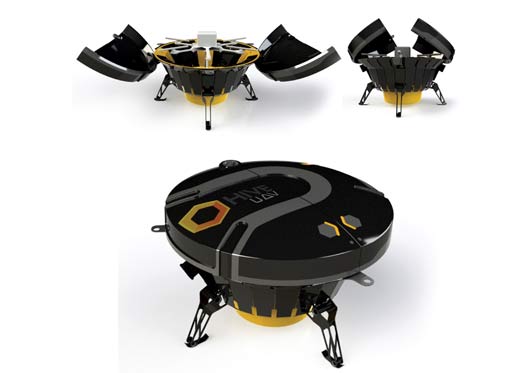 A local business developing cutting edge unmanned aerial vehicle (UAV) technology to help farmers, miners and emergency services monitor remote locations has been given a kick start from winning the inaugural
Hunter Beyond Bank Community Entrepreneur grant
.
The Community Entrepreneur Program rewards entrepreneurs and start-ups with grants and access to support networks to help them realise their dreams and promote local economic development. Grants of up to $20,000 will be on offer twice a year for people and businesses committed to benefiting their community.
HiveUAV
was unveiled as the winning Hunter applicant in the first round of the program at an awards ceremony and networking event held in Newcastle on 17 August.
"The Hunter is a large regional area with a lot of remote locations and industry," said Beyond Bank General Manager Distribution, Ray O'Brien.
"Farming and mining in particular are a lifeblood of our region.
Anything that can help reduce costs for local businesses, increase safety or assist with expansion will benefit our whole community.
"Another application of the technology being developed by HiveUAV could be to support emergency services. The Hunter has experienced a number of natural disasters and the tireless efforts of emergency service staff and volunteers has helped save many lives. The potential to reduce the risks these men and women face and assist them in their work helped HiveUAV stand out."
HiveUAV founder Dr Chris Renton said the goal of the business is to address the current shortcomings that are preventing UAVs fulfilling their potential to assist in multiple sectors.
"Currently limited battery life restricts the flight time of UAVs and therefore how far they can travel," Dr Renton explained.
"This means they have to be located close to where they are going to be used and there has to be someone there to manage and fly the vehicle and download the information collected.
"HiveUAV is combining autonomous UAVs and a docking station or Hive, that will enable programmed take off, landing, image transfer and wireless charging for a fleet of UAVs. Hive is mobile so it can be located just about anywhere and send imagery back to a central location or command centre where the user is located.
"The Beyond Bank grant funds will be used to complete the integration between our machine vision solution and a commonly available UAV autopilot system and to demonstrate automated landing and docking in our base station using this technology."
"We know getting started or making it over the early hurdles are probably the hardest things for a new business," Mr O'Brien said.
"We want to help businesses in the Hunter negotiate through these initial stages and go on to bigger and better things.
"HiveUAV is the first grant recipient in this region, but grant rounds are being held every six months. We encourage local innovators and entrepreneurs to apply in the future as we want to help those with great business ideas succeed."
The next Hunter grant round opened on 1 August and will close on 30 September 2015.
Other Articles from this issue
The NSW Department of Planning and Environment (DPE) has made a preliminary recommendation that the Drayton South projec...
With APRA currently trying to slow the residential lending market in regards to investment lending, now is the ideal tim...
The Hansen Yuncken Newcastle Airport project team is one of the main reasons they won this significate local project.