$14.5 million terminal redevelopment open at Newcastle Airport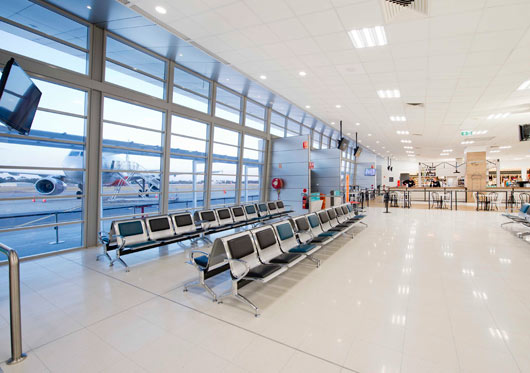 Newcastle Airport's $14.5 million terminal redevelopment officially opened on 28 August, marking another important milestone in the evolution of this leading regional airport. The $14.5 million redevelopment was officially opened by Parliamentary Secretary for the Hunter and Central Coast Scot MacDonald.
The entire project, which provided more than 80 direct jobs, included a 2,600 sqm expansion of the previous building, including a new arrivals hall with a dedicated area of permanent customs, immigration, and quarantine facilities in readiness for future international services. The remainder of the existing building has been fully refurbished and now houses a spacious, light-filled departures hall, a new retail store, and six food and beverage outlets.
"To unveil to our region the stunning finished product is very satisfying," commented Newcastle Airport's CEO Peter Cock.
"We now have an airport that complements the spirit of our region. It's bright, modern, and ready for the future."
The project has been completed on time and on budget with no lost time to injury. The local design and construction team,
Schreiber Hamilton Architects
and
Hansen Yuncken
, have designed and built a vibrant space that will meet the growing needs of Newcastle Airport.
"The completion of this project begins an exciting period for our business and for the region. It's very timely that recent announcements by local airlines showing they're operating in the black, combined with the lowest oil price in five years means the airlines are currently operating in a
sweet-spot.
"These lower overhead costs combined with increased capacity in airline fleets are have coincided perfectly with the opening of our terminal; this gives us the ability to take on more services we couldn't have previously.
"The Newcastle Airport you will experience today really sets the benchmark for regional aviation in the terms of design, build, and customer service. The building we have today will connect our region to the rest of Australia and beyond and is an airport our region deserves," concluded Peter. Parliamentary Secretary for the Hunter, Scot MacDonald MLC, was equally enthusiastic about the new development and the strong future for Newcastle Airport.
"The $14.5 million project, which includes an $11.1 million grant from the NSW Government's Hunter Infrastructure and Investment Fund, means Newcastle Airport has increased terminal capacity for additional domestic services, an increased food and beverage offering for its passengers, and
facilities to allow for international flights," Mr MacDonald said.
"The expansion also opens the possibility for new domestic routes such as Adelaide, Perth, and Cairns, as well as international services to New Zealand as demand continues to grow."
Other Articles from this issue
After being engaged by Viking River Cruises for a few years, Linkara Accountants has been appointed to assist the Los An...
A local business developing cutting edge unmanned aerial vehicle (UAV) technology to help farmers, miners and emergency ...
Port Waratah Coal and Newcastle Council have entered into a voluntary planning agreement (VPA) for developer contributio...
Women have needs in self-employed that differ to mens', and to how business is run in the corporate world or other emplo...